[Pumpkins scream in the dead of night]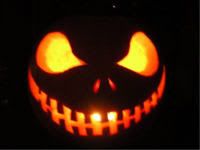 Well, it sort of looks like Jack the Pumpkin King (Amber's suggestion).

And here's a still life of some pumpkin guts: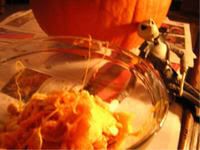 There's nothing better than digging your hand into the squishy landscape of the interior of a fresh October pumpkin. Maybe some day I'll feel the same way about digging my hand into the innards of a turkey on Thanksgiving.
I'd like to carve another pumpkin before Halloween, this time of the Radiohead death bear.

I like a good pumpkin-related challenge.