[In this valley of dying stars]
Yesterday was fun. Phil had the day off and I had nothing to do prior to my 6 p.m. class, so we did the typical consumer thing and looked at stuff to buy all day. We rifled through duds at a thrift store (Phil bought a grey blazer to wear with his T-shirts and jeans because he's such a Richie Tenenbaum wannabe), played with the baby ferrets at Petland, and smiled triumphantly at Books-a-Million when, as we were examining the table of recently published political books, a snarky woman and her rugrats passed us and remarked, "You'd think they'd have a table of Republican books but I guess you have to go to the Christian bookstore for that." The joke's on her: there
were
some Republican books on that table; they were just buried by the mountains of anti-Bush books that have come out lately.
Phil, Jimbo and I watched the debate last night, trying to pinpoint times when W. might have been receiving instructions in an earpiece. It's hard to tell. Either way, once again, he stood there stupified as John Kerry ruled.
After the debate, my mom called me and said I received a letter from the IRS. Apparently, when I filed online way back in March, the IRS didn't get a crucial piece of info from me. I have 10 days to respond, or else they claim ownership of my firstborn.
I have two tests today -- both of which I'm destined to fail, especially if I continue to waste my time blogging and not studying. Is it possible to memorize the 17 distinct fallacies of arguments in about 30 minutes? Let's hope.
+++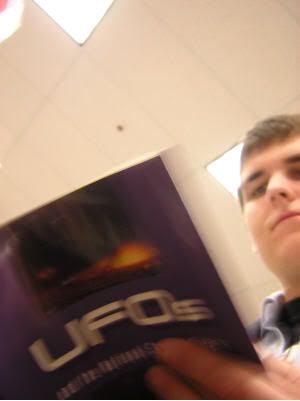 Don't you want to read
this dude's
blog? I wonder if the rest of the world's conspiracy theorists spell this badly. Aw, it's endearing!