[All pink and disheveled]
Yesterday Phil and I celebrated our seventh anniversary by doing absolutely nothing. It sort of ruled, but we both wish we could have taken a road trip somewhere. There was talk of going to Tunica to "invest" what little we've saved, but I didn't get out of class until 5:40 last night and we both have to be at work early tomorrow, so any free time we would have would be spent in a car. So instead we went and bought the ferrets a new tube and a new fuzzy-thing-on-a-stick toy that they love. We also looked at some camcorders to see if there were any reasonably priced ones we could use to record our mundane young lives. There are a couple of models that would work nicely in conjunction with the new computer I'll eventually get, but I don't know if we can just drop $400 on something we don't need. I told you I was settling into these consumer shoes too comfortably.
+++
The world has responded, and while I can't decipher the jibber-jabber on most foreign news fronts, here's one I don't think anyone can misunderstand: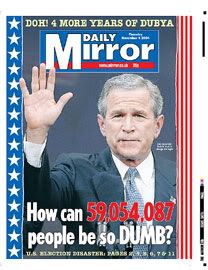 (Visit Britain's
Daily Mirror
here
. One of their headlines today says "We won't be duped like Dubya's dopes." I think they're mad at us.)
And New York's
Daily News
had something to say as well: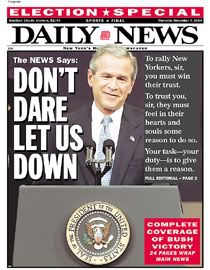 You can visit the
Newseum
and click on "Election Front Pages" to see more coverage around the country and the world.