[We live in a beautiful world]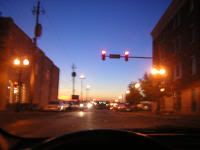 Today was gorgeous. This time of the year is so fantastic. I arrived in the JUB before 1 p.m., delighted by a sign informing me that Dr. Magada-Ward's classes had been canceled for the day. So I decided that instead of walking back to my car and driving home to wait for my 6 p.m. class, I would sit out in Peck Forest/Walnut Grove and cram for my Death and Dying class exam. Sitting beneath the walnut and oak trees with fractured sunlight and yellow leaves falling all around me, I felt more content than I have in a long time. Ignoring the whump of walnuts falling precariously near me, I caught up on a month's worth of material about death in varying cultures and palliative care.
With several hours left to waste, I went to the Mass Comm building and reworked my resume. I talked to Ray Wong, who told me I needed to go for a two-year internship program for graduates at
The Oregonian.
I told him I was too broke to move right after college, but that he could fund me if he wanted. He didn't say no. In the lab, I printed out several job openings posted on SND's site. There are two Tennessee papers hiring designers right now, which is promising.
I had lunch in the KUC and studied more for the Death and Dying test, which proved to be fairly useless because the exam was ridiculously easy. I finished in five minutes and left class by 6:15, with daylight to spare. I was yammering with a woman from my class when I heard Marie call out to me, so we did some quick catching up before I sped toward home to drop off the rent check and plant myself near the TV to watch the VP debate, which is coming on right now.
So I'm going to watch it. Let's hope it doesn't kill my good mood, and the high spirits of the Kerry camp.