[We're just two lost souls swimming in a fish bowl]
Lots to cover. I don't have Internet at home (or cable, or a newspaper subscription; I'm completely cut off and didn't know that Rick James died!) so the longest post you've ever seen starts ... now.
+++
The internship wrapped up nicely. During my last week I got to do three major projects: 1A, the whole Religion section, and the whole Money section. Some of the editors and designers got together and surprised me with a gift -- a nice
Birmingham News
shirt -- which was totally unexpected. I even got a few hugs. When I got off Friday night, I trucked it to the 'Boro, and hit the hay in anticipation of the mammoth roadtrip on the other side of dawn.
Farewell to Birmingham, and its disco-dancing, loin-clothed mascot in the sky.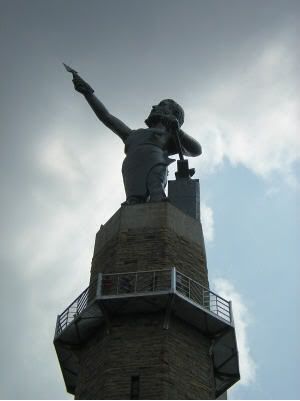 +++
Last Saturday the kids met at Shoney's and ate a pensive breakfast (pensive in my mind, but fluid and aloof on the outside, of course; as a group we're not
that
good at emoting). Hugs, tears, and a few pit stops later, we headed east and battled Mother Nature as she threw her weight (and some motorists) around. The rain didn't let up much the whole day. We made it to Patrick's dad's house in Leesburg, Va., got silly very briefly, and then crashed. For the record, Virginia is beautiful.
The next morning we blitzed right through Maryland, Pennsylvania, and half of New York. I saw more farmland in Maryland and New York than I've ever seen in Tennessee. Syracuse is a city with character -- that much you can tell from the interstate. There's lots of old mixed with the new, and there's a sizable ghetto that's right around the corner from Patrick and Amber's place, to forever remind them of their white middle-class privelege. Hyuk. Their apartment is nice enough, especially for the low low price in the $500-$600 range. Their balcony looks over a cemetery (my mom said, "At least that means it will be quiet at night") and they have really nice windows that let in a lot of light.
Moving in was torture, though I didn't lift nearly as much as Phil Pagle (sp?) and Patrick. The four of us managed to get their colossal couch-bed stuck in the stairwell. The bastard wouldn't budge. Here's a visual aid, in case you can't picture it.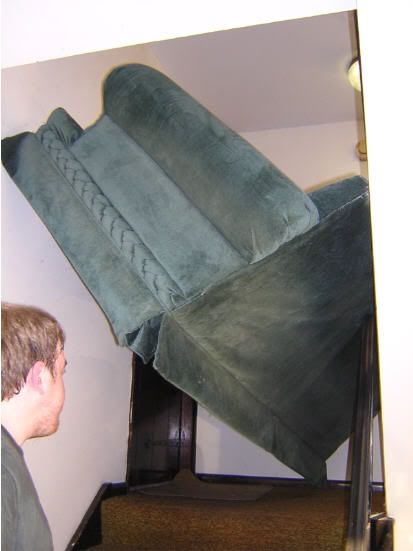 I can't really explain how we did it, but we'd all just about agreed that we would get a saw or an axe and hack it out, when we called the emergency maintenance man, who came and laughed at us and then saved our asses. The couch now sits in their living room, and I have no idea how it will ever come out. We left two nice holes and scratches aplenty.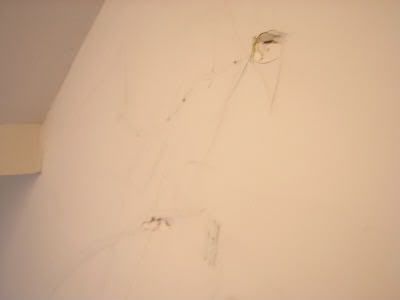 The next day (Monday), we tooled around the city and the Syracuse campus, which is what a real college campus should look like, I imagine. There's a strip of stores and restaurants and bars that's literally right on the edge of campus. Between classes, needing a beer or a bong or a beer bong? Come on over to Smokey McLungrot's tavern and whet your whistle! I think Patrick will love it there. I hope Amber loves her campus as well.
Tuesday we headed to Niagara Falls, which was beautiful and not at all filled with a demonic presence, like my father warned. Well, I didn't feel any demons. Maybe it's because I'm already clinging to the bosom of Our Dark Father. Anyway. We took the Maid of the Mist tour and got soaked. But it was worth it.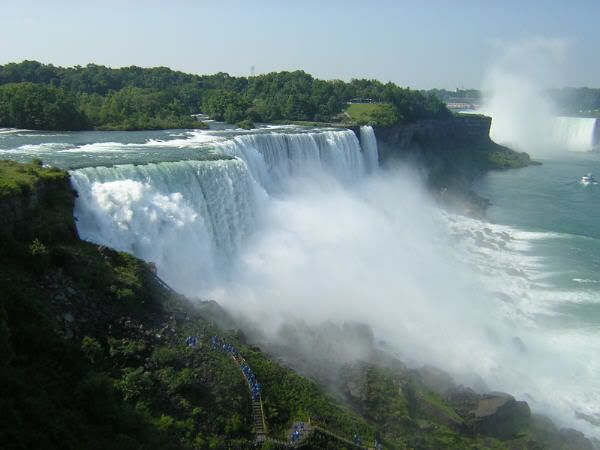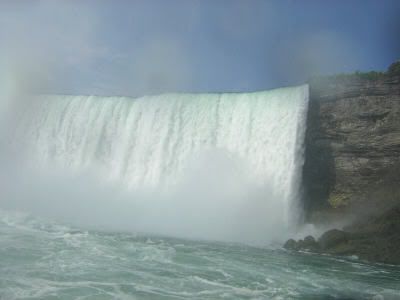 And then we trekked the bridge over to Canada, and, coming back, I got the distinct pleasure of going through Customs and declaring my mug and chocolate bar. Relax, everyone, our country is safe. In Ontario, I watched Patrick blow $50 at the Casino Niagara. I won a quarter at a quarter slot machine and then promptly lost it. Gambling must not be my thing. Ontario's Hard Rock Cafe has watery Cokes and crappy burgers, but I suppose the same could be said for any Hard Rock Cafe.
So that evening I left in a flurry of airport hugs and tears, which was only made worse by the fact that the security lady made me take my belt off. So I'm standing at the X-ray machine, sobbing, holding my pants up, watching them run and rerun my purse to try and figure out why I've got so many tampons in there. Life is comedy, pure and simple, even when it's tragic.
And Patrick and Amber have only been gone a week, but I miss them. I don't worry that we'll grow apart and stop talking or anything. I don't even see that as a possibility. The little nest of friends I've made in the past few years mean everything to me, and I don't want to lose any of them. As I've discussed with Amber, as we grow up and begin to disperse geographically, we'll just have to be more creative in order to keep the bond alive.
+++
So I'm back in my apartment, with my scuttling little ferrets and my doubly employed boyfriend. Money is tight, as usual, and I'm lazy and addicted to video games. So it seems all, well much, is right in my little world. But school starts soon, this time for the last time, so the story continues.
+++
A new story is beginning for Phil's sister, Brooke. Lila, his mom, e-mailed ultrasound photos of Brooke's baby to me a week or two ago. It's a girl -- Rylee Ann.